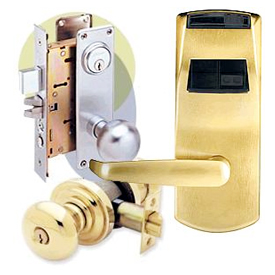 Ask the Locksmith:
"Do I have to replace my lock cylinders when the contractors are finished building?"
The Short Answer:
No. Call a locksmith and get your locks re-keyed instead.
The Long Answer
(for those who dare to read it):
Most manufacturers these days offer "contractor" cylinders, meaning that they come functioning with a contractor key out of the box. They come with another set of keys that, once inserted, will permanently void the contractor key. In essence you get to rekey the cylinder yourself, just by turning a key. We've found that the cost of these cylinders is usually more expensive than just calling a locksmith to re-key the cylinder, so we don't really believe in selling those products. For example, if a Mul-T-Lock cylinder costs about $100, the "contractor" version of that same cylinder usually costs around $300. It costs less than $200 for a locksmith to come out and do a re-key, although if you're looking for convenience and speed the contractor cylinder is the faster option for a re-key. I would much rather have to do the extra labor for a customer than to sell him something up front that's just not cost effective.
The cylinders that come with your locks are fine to be used permanently, even if you want to re-key them when the contractors pack up. You can save a lot of money by re-keying the cylinders you already have rather than replacing them with new ones. We can simply recombinate the pins in your cylinder so that the old keys no longer work, using all the original hardware (think green?). If you have a decent brand like Arrow or Sargent, this is a better option than replacement unless there is something wrong or broken (or if you want to upgrade). We create master key systems using the same method. By the way, we've had some recent complaints about some unscrupulous locksmiths going around telling folks that their locks are "so fancy" they are impossible to re-key, thereby selling people new hardware they don't really need, so it's always best to get a second opinion if someone tells you something like that.
If you are going to replace the cylinders, they can be used in another lock of the same type. Not all locks have removable cylinders. If they are interchangeable core cylinders then they can be moved from lock to lock with a special control key. IC cores come in two main formats, small format and large format, that are not interchangeable with each other. If your locks do have changeable cores, it might be worthwhile to upgrade to high-security cylinders instead of re-keying. The average commercial-grade cylinder costs about $60 to re-key, and the average high-security cylinder costs about $100.